Function:
Metalloprotease that may play a role in the degradation of COMP.
Subunit:
Interacts with COMP.
Subcellular Location:
Secreted, extracellular space, extracellular matrix. Note=Also found associated with the external cell surface.
Tissue Specificity:
Expressed in heart, brain, placenta, lung, liver, skeletal muscle, kidney and pancreas. Detected in meniscus, bone, tendon, cartilage, synovium, fat and ligaments.
Post-translational modifications:
N-glycosylated.
O-glycosylated proteoglycan. Contains chondroitin sulfate (By similarity).
May be cleaved by a furin endopeptidase (By similarity). The precursor is sequentially processed.
Similarity:
Contains 1 disintegrin domain.
Contains 1 peptidase M12B domain.
Contains 1 PLAC domain.
Contains 8 TSP type-1 domains.
Gene ID:
11173
整合素样金属蛋白酶与凝血酶1型-7用于动脉粥样硬化导致早期血管基质修复作用的研究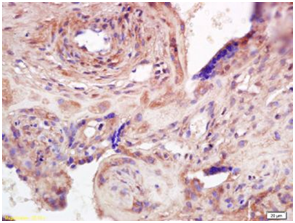 Tissue/cell: human placenta tissue; 4% Paraformaldehyde-fixed and paraffin-embedded;
Antigen retrieval: citrate buffer ( 0.01M, pH 6.0 ), Boiling bathing for 15min; Block endogenous peroxidase by 3% Hydrogen peroxide for 30min; Blocking buffer (normal goat serum) at 37℃ for 20 min;
Incubation: Anti-ADAMTS7 Polyclonal Antibody, Unconjugated 1:200, overnight at 4°C, followed by conjugation to the secondary antibody and DAB staining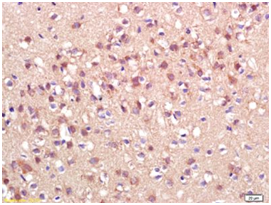 Tissue/cell: rat brain tissue; 4% Paraformaldehyde-fixed and paraffin-embedded;
Antigen retrieval: citrate buffer ( 0.01M, pH 6.0 ), Boiling bathing for 15min; Block endogenous peroxidase by 3% Hydrogen peroxide for 30min; Blocking buffer (normal goat serum) at 37℃ for 20 min;
Incubation: Anti-ADAMTS7 Polyclonal Antibody, Unconjugated 1:200, overnight at 4°C, followed by conjugation to the secondary antibody and DAB staining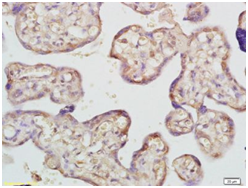 Tissue/cell: human placenta tissue; 4% Paraformaldehyde-fixed and paraffin-embedded;
Antigen retrieval: citrate buffer ( 0.01M, pH 6.0 ), Boiling bathing for 15min; Block endogenous peroxidase by 3% Hydrogen peroxide for 30min; Blocking buffer (normal goat serum) at 37℃ for 20 min;
Incubation: Anti-ADAMTS7 Polyclonal Antibody, Unconjugated 1:200, overnight at 4°C, followed by conjugation to the secondary antibody and DAB staining