Function:
Receptor for globular and full-length adiponectin (APM1), an essential hormone secreted by adipocytes that acts as an antidiabetic. Probably involved in metabolic pathways that regulate lipid metabolism such as fatty acid oxidation. Mediates increased AMPK, PPARA ligand activity, fatty acid oxidation and glucose uptake by adiponectin. Has some intermediate-affinity receptor activity for both globular and full-length adiponectin.
Subunit:
May form homo and heteromultimers.
Subcellular Location:
Membrane; Multi-pass membrane protein. Note=Localized to the cell membrane and intracellular organelles.
Tissue Specificity:
Highly expressed in skeletal muscle, liver and placenta. Weakly expressed in brain, heart, colon, spleen, kidney, thymus, small intestine, peripheral blood leukocytes and lung.
Similarity:
Belongs to the ADIPOR family.
Gene ID:
79602
脂联素与受体结合后具有增强胰岛素敏感性,抗高血糖,抗动脉粥样硬化等生物学效应,任何增加或减少脂联素及其受体表达的方法都影响这些疾病的发生和发展。脂联素受体-1(AdipoR1和AdipoR2)同属于PAQR家族,具有七次跨膜蛋白的特有结构。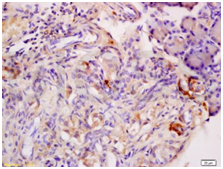 Tissue/cell: rat pancreas tissue; 4% Paraformaldehyde-fixed and paraffin-embedded;
Antigen retrieval: citrate buffer ( 0.01M, pH 6.0 ), Boiling bathing for 15min; Block endogenous peroxidase by 3% Hydrogen peroxide for 30min; Blocking buffer (normal goat serum) at 37℃ for 20 min;
Incubation: Anti-Adiponectin Receptor 2 Polyclonal Antibody, Unconjugated 1:200, overnight at 4°C, followed by conjugation to the secondary antibody and DAB staining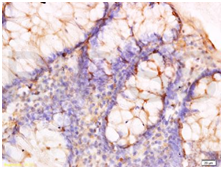 Tissue/cell: human rectal tissue; 4% Paraformaldehyde-fixed and paraffin-embedded;
Antigen retrieval: citrate buffer ( 0.01M, pH 6.0 ), Boiling bathing for 15min; Block endogenous peroxidase by 3% Hydrogen peroxide for 30min; Blocking buffer (normal goat serum) at 37℃ for 20 min;
Incubation: Anti-Adiponectin Receptor 2 Polyclonal Antibody, Unconjugated 1:300, overnight at 4°C, followed by conjugation to the secondary antibody and DAB staining