Function:
Actins are highly conserved proteins that are involved in various types of cell motility and are ubiquitously expressed in all eukaryotic cells.
Subunit:
Polymerization of globular actin (G-actin) leads to a structural filament (F-actin) in the form of a two-stranded helix. Each actin can bind to 4 others.
Subcellular Location:
Cytoplasm, cytoskeleton.
Post-translational modifications:
Oxidation of Met-46 by MICALs (MICAL1, MICAL2 or MICAL3) to form methionine sulfoxide promotes actin filament depolymerization. Methionine sulfoxide is produced stereospecifically, but it is not known whether the (S)-S-oxide or the (R)-S-oxide is produced (By similarity).
DISEASE:
Note=ACTA2 mutations predispose patients to a variety of diffuse and diverse vascular diseases, premature onset coronary artery disease (CAD), premature ischemic strokes and Moyamoya disease.
Defects in ACTA2 are the cause of familial aortic aneurysm thoracic type 6 (AAT6) [MIM:611788]. AATs are characterized by permanent dilation of the thoracic aorta usually due to degenerative changes in the aortic wall. They are primarily associated with a characteristic histologic appearance known as 'medial necrosis' or 'Erdheim cystic medial necrosis' in which there is degeneration and fragmentation of elastic fibers, loss of smooth muscle cells, and an accumulation of basophilic ground substance.
Defects in ACTA2 are the cause of Moyamoya disease type 5 (MYMY5) [MIM:614042]. Moyamoya disease is a progressive cerebral angiopathy characterized by bilateral intracranial carotid artery stenosis and telangiectatic vessels in the region of the basal ganglia. The abnormal vessels resemble a 'puff of smoke' (moyamoya) on cerebral angiogram. Affected individuals can develop transient ischemic attacks and/or cerebral infarction, and rupture of the collateral vessels can cause intracranial hemorrhage. Hemiplegia of sudden onset and epileptic seizures constitute the prevailing presentation in childhood, while subarachnoid bleeding occurs more frequently in adults.
Defects in ACTA2 are the cause of multisystemic smooth muscle dysfunction syndrome (MSMDYS) [MIM:613834]. MSMDYS is a syndrome characterized by dysfunction of smooth muscle cells throughout the body, leading to aortic and cerebrovascular disease, fixed dilated pupils, hypotonic bladder, malrotation, and hypoperistalsis of the gut and pulmonary hypertension.
Similarity:
Belongs to the actin family.
Gene ID:
59
结构蛋白(Structural Proteins)
Actin α/α-Actin 是一种具有收缩能力的微丝蛋白,a-SMA广泛分布于几乎所有的肌型细胞中。Actin-α蛋白主要用于检测骨骼肌、平滑肌、血管平滑肌、心肌和肌原性肿瘤 包括:平滑肌瘤、平滑肌肉瘤、横纹肌肉瘤以及肌上细胞和肌上皮瘤。Actin(肌动蛋白)是在所有真核细胞中都表达的高度保守的蛋白质。它们沿微管组成了细胞骨架的主要成分。肌动蛋白至少表达为6种异构形式。它在心脏、骨骼横纹肌组织和某些平滑肌组织中表达,调节其收缩功能。有报导说肌动蛋白在乳房瘤中是高度磷酸化的。肌动蛋白的功能失调也会导致某种类型的心脏病。平滑肌α肌动蛋白使人更感兴趣,因为编码它的基因是相对局限于在血管平滑肌细胞中表达的少数几个基因之一。肌动蛋白是标记平滑肌和肌上皮细胞肿瘤的有效工具。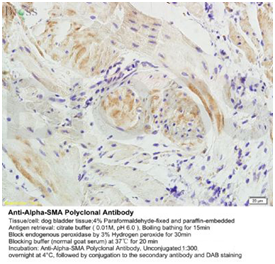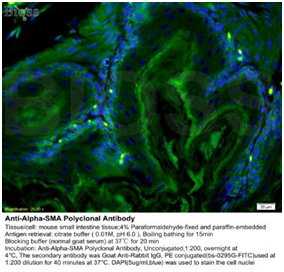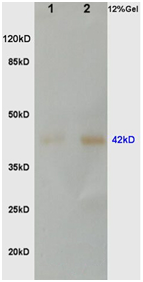 Protein: line1, rat brain lysates, 30ug; line2, rat kidney lysates, 30ug;
Primary: Anti-alpha-SMA at 1:300;
Secondary: HRP conjugated Goat-Anti-Rabbit IgG at 1: 3000;
ECL excitated the fluorescence;
Predicted band size : 42kD
Observed band size : 42kD