Function:
Antiapoptotic factor that may have a role in protein assembly. Negatively regulates ACIN1. By binding to ACIN1, it suppresses ACIN1 cleavage from CASP3 and ACIN1-mediated DNA fragmentation. Also known to efficiently suppress E2F1-induced apoptosis. Its depletion enhances the cytotoxic action of the chemotherapeutic drugs.
Subunit:
Monomer. Interacts with FGF2 and ACIN1.
Subcellular Location:
Nucleus. Cytoplasm. Note=Mainly nuclear. Can also be cytoplasmic.
Isoform 3: Cytoplasm.
Tissue Specificity:
Expressed in all tissues tested, including heart, brain, placenta, lung, liver, skeletal muscle, kidney and pancreas. Highest levels in heart, pancreas and placenta. Highly expressed in several cancers. Preferentially expressed in squamous cell carcinoma versus adenocarcinoma in non-small cell lung cancer.
Post-translational modifications:
Acetylation at Lys-251 impairs antiapoptotic function.
Similarity:
Belongs to the API5 family.
Gene ID: 8539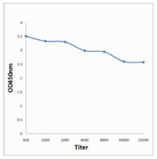 API-5是细胞凋亡的一种抑制因子、参与细胞凋亡调控,可以用于各种恶性肿瘤的细胞凋亡的研究.
Antigen: 0.2ug/100ul
Primary: Antiserum, 1:500, 1:1000, 1:2000, 1:4000, 1:8000, 1:16000, 1:32000;
Secondary: HRP conjugated Goat Anti-Rabbit IgGat 1: 5000;
TMB staining;
Read the data in MicroplateReader by 450nm.
Protein: mouse heart lysates(A); mouse pancreas lysates(B);
Primary: Anti-API5 at 1:300;
Secondary: HRP conjugated Goat-Anti-Rabbit IgG at 1: 5000;
ECL excitated the fluorescence;
Predicted band size : 57 kD
Observed band size :57 kD