Function:
APOD occurs in the macromolecular complex with lecithin-cholesterol acyltransferase. It is probably involved in the transport and binding of bilin. Appears to be able to transport a variety of ligands in a number of different contexts.
Subunit:
Homodimer. In plasma, also exists as a disulfide-linked heterodimer with APOA2.
Subcellular Location:
Secreted.
Tissue Specificity:
Expressed in liver, intestine, pancreas, kidney, placenta, adrenal, spleen, fetal brain tissue and tears.
Post-translational modifications:
N-glycosylatd. N-glycan heterogeneity at Asn-65: Hex5HexNAc4 (major) and Hex6HexNAc5 (minor); at Asn-98: Hex5HexNAc4 (minor), dHex1Hex5HexNAc4 (major), dHex1Hex6HexNAc5 (minor) and dHex1Hex7HexNAc6 (minor).
Similarity:
Belongs to the calycin superfamily. Lipocalin family.
Gene ID:347
载脂蛋白D(apolipoprotein D,apoD)是一个糖蛋白,它最初是在人血浆的高密度脂蛋白中被分离出来的。apoD在结构上与其他类型的载脂蛋白存在很大的差异,被归入脂肪促成素家族。apoD可以与胆固醇、黄体酮、胆红素等多种疏水性小分子结合。
apoD在多种脊索动物的各类组织中广泛表达, 在脊椎动物中重要的生理功能。最近的研究表明,apoD可以作为多种癌症及神经系统疾病的早期诊断标记, apoD是一个多配体、多功能的蛋白质.
Tissue/cell: rat brain tissue; 4% Paraformaldehyde-fixed and paraffin-embedded;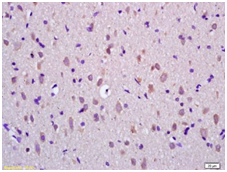 Antigen retrieval: citrate buffer ( 0.01M, pH 6.0 ), Boiling bathing for 15min; Block endogenous peroxidase by 3% Hydrogen peroxide for 30min; Blocking buffer (normal goat serum) at 37℃ for 20 min;
Incubation: Anti-APOD Polyclonal Antibody, Unconjugated 1:200, overnight at 4°C, followed by conjugation to the secondary antibody and DAB staining