Function:
Water channel required to promote glycerol permeability and water transport across cell membranes. Acts as a glycerol transporter in skin and plays an important role in regulating SC (stratum corneum) and epidermal glycerol content. Involved in skin hydration, wound healing, and tumorigenesis. Provides kidney medullary collecting duct with high permeability to water, thereby permitting water to move in the direction of an osmotic gradient. Slightly permeable to urea and may function as a water and urea exit mechanism in antidiuresis in collecting duct cells. It may play an important role in gastrointestinal tract water transport and in glycerol metabolism.
Subcellular Location:
Membrane; Multi-pass membrane protein.
Tissue Specificity:
Renal medulla and colon. Predominantly in the inner medulla. Expressed in basal layer of epidermal keratinocytes.
Similarity:
Belongs to the MIP/aquaporin (TC 1.A.8) family.
Gene ID: 360
通道蛋白(Channel Protein)AQP 3主要分布于肾脏集合管上皮细胞基侧质膜,除了对水有通透性外、还可转运尿素和甘油等小分子物质,而尿素在尿液浓缩机制中有着重要的作用.有学者认为:AQP-3的阳性率与某些肿瘤分化程度有关(胃癌、结肠癌、乳腺癌、前列腺癌、子宫癌、卵巢癌、甲状腺癌等)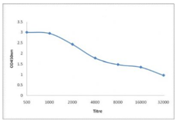 Antigen: 0.2ug/100ul
Primary: Antiserum, 1:500, 1:1000, 1:2000, 1:4000, 1:8000, 1:16000, 1:32000;
Secondary: HRP conjugated Goat-Anti-Rabbit IgG at 1: 5000;
TMB(C-0024) staining;
Read the data in MicroplateReader by 450nm.
Tissue/cell: rat taste buds; 4% Paraformaldehyde-fixed and paraffin-embedded;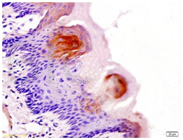 Antigen retrieval: citrate buffer ( 0.01M, pH 6.0 ), Boiling bathing for 15min; Block endogenous peroxidase by 3% Hydrogen peroxide for 30min; Blocking buffer (normal goat serum) at 37℃ for 20 min;
Incubation: Anti-AQP-3 Polyclonal Antibody, Unconjugated 1:200, overnight at 4°C, followed by conjugation to the secondary antibody and DAB staining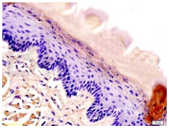 Tissue/cell: rat tongue tissue; 4% Paraformaldehyde-fixed and paraffin-embedded;
Antigen retrieval: citrate buffer ( 0.01M, pH 6.0 ), Boiling bathing for 15min; Block endogenous peroxidase by 3% Hydrogen peroxide for 30min; Blocking buffer (normal goat serum) at 37℃ for 20 min;
Incubation: Anti-AQP-3 Polyclonal Antibody, Unconjugated 1:200, overnight at 4°C, followed by conjugation to the secondary antibody and DAB staining